In a mono-tone voice (like the guy from the Clear Eyes commercial...say...
Bueller. Bueller. Bueller. Bueller. Bueller. Bueller. Bueller. Bueller. Bueller. Bueller. Bueller. Bueller. Bueller. Bueller. Bueller. Bueller.
"Ferris is a street-wise kid who knows all the tricks. Today he decides to take the day off school. When Ferris takes the day off, so must his best friends, Cameron and Sloane. Cameron is reluctantly persuaded to borrow his father's Ferrari, and together they hatch a plan to get Sloane out of class. Suspicious dean of students Ed Rooney knows all about Ferris, but can never catch him. Ferris' sister Jeanie is also frustrated that Ferris always gets away with his tricks and she doesn't. Furthermore, Ferris is an 'angel' in his parent's eyes. It's Ferris' day off, he's out to enjoy himself, and he does!"
I, unlike most, actually enjoy my job.

I work as an administrative assistant with J.A. White & Associates, Inc.

I love going to work and seeing my co-workers…and although it may be hard to believe, I like doing my job as well.

If I want to be good at something, all I have to do is put my mind to it.

Eventually, I'll get there.

So… going to work and doing my job well is fun for me.

Not to mention, there are perks to personally knowing the people you work with.

…see, we are a small company.

There are roughly 12 people that work in our office.

So, we dress pretty casual…and after we work hard, we play hard.

Playing hooky from work is nothing I'm interested in.
Playing hooky from school is a different thing.

As I've stated before, I am a (struggling) independent student…
Crazy, for most, I know.

But, I do love studying, reading, writing, class discussions, projects, presentations…I enjoy getting out what I put into something.

It's both a curse and a blessing.

And although it is fun for me, it can be stressful…during those moments…I like to take a breather…and a little inspiration from my friend Bueller!
Usually mid-way through the semester, IF nothing is going on in any of my classes, I'll take a "me-day".

("me-day" should TOTALLY be the 8th day of the week…)
This semester, though, the first week of school... the first Gamecocks football game... was Thursday night.

It just so happens, I am taking two evening classes on Tuesday and Thursday nights.

Originally I wasn't going to go to the game…I thought I'd play it safe.

Well, a friend of mine bought me a ticket and convinced me to go.

How could I turn him down…?

And after he was so generous…
I can imagine my teachers calling the roll…and in a mono-tone voice, saying…
Peyton.

Peyton.

Peyton.

Peyton.

Peyton.

Peyton.

Peyton.

Peyton.
Peyton.

Peyton.

Peyton.

Peyton.

Peyton.

Peyton.

Peyton.

Peyton.
I had a really good time at the football game.

The USC Gamecocks won!!!

…what a way to start off the season…and the semester.
The good thing about taking a day off at the beginning of class, was that I didn't miss much.

I didn't get behind.

And because I had played hooky a little early…I've studied harder and have (so far) done exceptionally well.
I learned what it means to be a Gamecock fan…
I learned what it means to make decisions for myself…
I learned how to take generously without too much pride…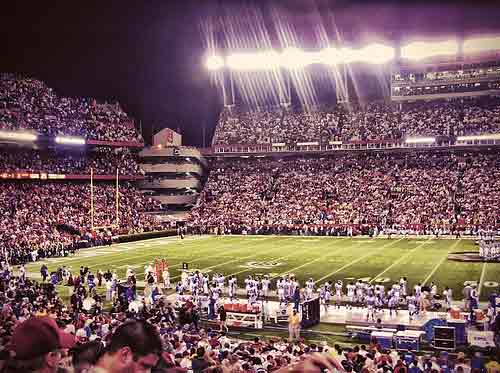 Thank you for being an inspiration to the long days that are held together by countless facts…for giving students a way to break free…for helping me learn three valuable lessons…for inspiring me to follow in your foot-steps…
…to have a "me-day" and not feel guilty about it…
Play hooky from work or school!

Just do it.

Paste in your souvenirs from your day off.
– The Happy Book